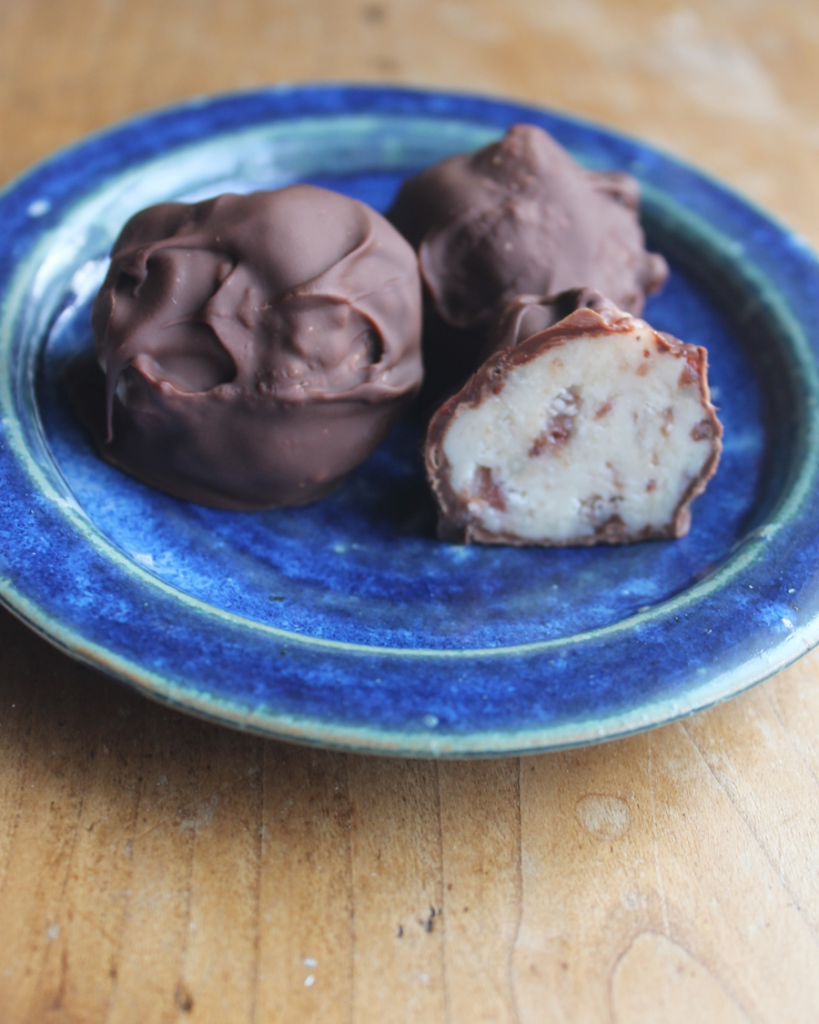 A couple of weeks before Christmas I strained and bottled the strawberry liqueur that I had started in the spring, much of it being given away to friends.
I was left with a pile of alcohol infused strawberry pulp that I was reluctant to waste. As it is not the most visually appealing of ingredients I have always thought that using it to make chocolate truffles is ideal as the pallid appearance is disguised by copious amounts of chocolate, but previous attempts to do this have proved difficult as the alcohol content prevented the chocolate mix from firming up sufficiently to roll into truffles.
Last time this happened I turned the sloppy mix into a dessert but this time I was determined to come up with a ratio of chocolate to fruit that I could work with to roll into truffles but still had good strawberry flavour and a pleasant hint of alcohol. It took a number of attempts but I eventually got there.
Strawberry Liqueur Truffles
8oz white chocolate
2oz strawberry liqueur pulp (leftover from making strawberry liqueur: recipe here)
Pinch of salt
4oz chocolate of your choice for coating (I used Ghirardelli semi sweet)
Melt the white chocolate over medium heat in a double boiler or a glass bowl over a pan of water. Once melted, stir in the strawberry pulp and a pinch of salt.
Allow to cool and then put in the fridge until the mixture is firm. Taking a teaspoon full of the mixture at a time roll it into balls to form the centre of the truffles. This recipe should yield around a dozen. Return to the fridge to firm up again.
Melt the chocolate for coating the truffles in a double boiler. I went for a semi sweet coating which I found contrasted well with the white chocolate centre but you could opt for a darker covering or more white chocolate if you wish. Dip the centres in the chocolate to coat and place on baking parchment to set before enjoying.